Home

Product Line

Knuckleboom Trash Loaders

Safety Cameras, Monitors & DVR

Sanitation

Video Pipeline Inspection

Jetter Cleaning Nozzles

Power
Sweeping

Street
Maintenance

Leaf Collection

Recycling

Technical Rescue Trucks

New/Used Equipment
In Stock,
Ready to Deliver

Parts

Complete
Financing

Contact Us


---
Public Works Consulting
---

"Quality
Service
Since 1978"
Sewer and Drain Line Inspection Equipment from Municipal Equipment Sales, Inc.
We look forward to earning YOUR business.
---
Emerging technology is changing the way sewer and drain lines are inspected and repaired.
The systems we offer meet all Florida Department of Transportation accuracy requirements.

And, as time goes on, you can count on Municipal Equipment to keep up with the latest in state-of-the-art systems.
---
To provide you with the choices you need, Municipal Equipment, Inc. offers two leading manufacturers of pipe inspection equipment.
RapidView's top-quality IBAK line offers quality products from the world's oldest and largest manufacturer. Click on the Ibak RapidView logo for details on what MES offers from RapidView.
Founded in 1991 as a small pipeline contracting firm, RapidView is today the leading supplier of high quality, high production, professional sewer, water, industrial and other pipeline inspection cameras, sewer inspection software, and sewer pipe rehabilitation robotics to the North American market.
Click here or on the RapidView logo for details on that company's IBAK product line.
---
For more entry-level equipment, we recommend UEMSI, a well-known manufacturer of pipeline cleaning and televising equipment.
UEMSI is a well-known manufacturer of pipeline cleaning and televising equipment. They offer a comprehensive line of cameras and transporters, with specialization on the 'push camera' market segment. UEMSI equipment is solidly built, yet priced to allow market entry at under $50,000.
For UEMSI product information, choose one of the buttons under the company logo to look at the type of equipment you're interested in.
---
MES also offers a wide variety of other support software, vehicles and repair products for sewer and drain line inspection and repair. Click on the button that shows your product of interest.
---
We can install all of the above types of systems into the truck chassis of your choice, as well as into the cost-effective Economy Trailer.
The "Economy Trailer" design is an entry-level unit that allows a contractor or City to video sanitary or storm drain line infrastructure to be in compliance with the State and Federal Guidelines.
If you are not quite ready for a pipe inspection system costing up to $275,000. we can furnish you with our Economy Trailer (with air conditioning) for far less than that amount. The trailer package includes training of the operators and delivery in the southeast US. All equipment is upgradeable to truck-mount systems. These are mainline-rated and come with a computer system that will identify all faults and record to a DVR or DVD.
For more information, please give us a call or send us an email.
---
After the Sale: You can always count on our experienced support personnel to provide you with follow-up services, including replacement parts and product information.
How can we serve your needs?
For more information about any of our lines of sewer camera equipment, give us a call or send us an email.
---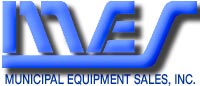 Address: 208 Bell Place
Woodstock, GA 30188

Local: 770-928-0424
Fax: 770-928-7512

Nationwide Toll Free: 1-800-782-2243

Email: sales@municipalequipment.com
MES Home | Product Line | Storm & Disaster Cleanup Trucks
Video Pipeline Inspection | Pipeline Nozzles | Safety Cameras | Knuckleboom Trash Loaders
Sanitation | Recycling | Leaf Collection | Street Cleaning | Street Maintenance
Ice/Snow Material Spreaders | New/Used Equipment | Parts | Complete Financing