Home

Product Line

Knuckleboom Trash Loaders

Safety Cameras, Monitors & DVR

Sanitation

Video Pipeline Inspection

Jetter Cleaning Nozzles

Ice/Snow
Material Spreaders

Power
Sweeping

Street
Maintenance

Leaf Collection

Recycling

Technical Rescue Trucks

New/Used Equipment
In Stock,
Ready to Deliver

Parts

Complete
Financing

Contact Us


---
Public Works Consulting
---

"Quality
Service
Since 1978"
Laser Profiling Tools
from Municipal Equipment Sales, Inc.
We look forward to earning YOUR business.
---
All of our laser profiling software and hardware equipment is trailer- or truck-adaptable. Both CCTV and laser profile inspections are recorded at regular speeds through a circular pipeline.
A video recording of the passage of the camera, as well as the laser profiling, is done at the same speed. A report of the two inspections is provided through the POSM data collection software. In tests conducted by an independent third party laboratory, our laser profiling equipment has achieved a precision of 0.25%. This accuracy is unique on the market, and meets all Florida Department of Transportation accuracy requirements.
---
Laser Pipe Profiler
RapidView's Laser Pipe Profiler Provides Accurate Pipeline Deformation Data
In dry pipes, the Laser Profiler system allows you to get extremely accurate pipeline measurements. The system projects a laser ring on the pipe wall, which is recorded for data analysis. A sophisticated suite of software tools are available to work with the data you capture to give you exactly what you need. This tool is perfect for testing deflection or erosion in new and old pipes.
Structural Pipe Integrity Analysis
1 million measurements every 4 minutes
6-inch to 160-inch in diameter
Free software viewer for the end customer
Supports various pipe shapes
Built-in observations report
Flat, un-folded report
Automatic debris calculator
Exports to standard modeling formats
3000 ft per page reporting
Verification and Measurement of:
Ovality
Corrosion
Material Loss
Diameter
Build up
Sediment depth
Life expectancy
The RapidView Laser Pipe Profiler is Department of Transportation APPROVED for precertification of pipelines!
---
3-D Pipe Laser Profiling Tools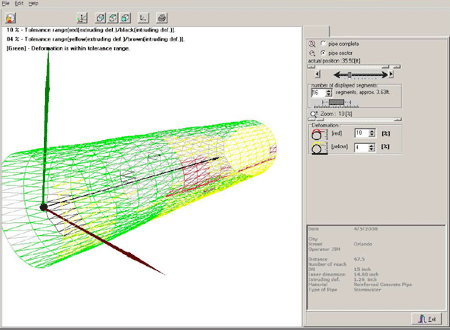 Our laser profile systems offer a safe, low cost solution that has an enormous number of advantages over old-style, 2-D pipeline inspection techniques. These include:
Accurate measurements
Work or design with the actual present conditions
Verification of rehabilitation methods
Verification of new construction installations
Undisputable evidence for responsible decisionmaking
Repeatable observations
Data is on record, allowing for year-after-year comparison
Non-contact, non-destructive
Provides a slope overview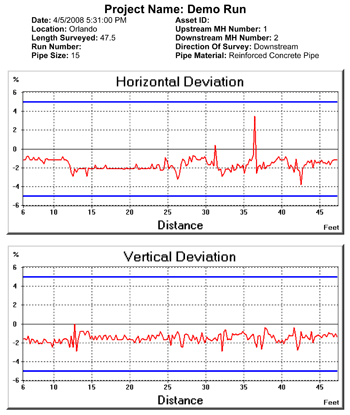 POSM, Pipeline Observation System Management Software
Required software comes pre-installed
Online software upgrades at no charge
Data available in finished form in the truck or trailer
Report is produced instantly in the truck or trailer
More information is also available on the POSM website, located at www.POSM.us. Or, click on the images shown below to download a Sample Report or the POSM Brochure.
---
After the Sale: You can always count on our experienced support personnel to provide you with follow-up services, including replacement parts and product information.
How can we serve your needs?
For more information about any of our lines of sewer camera equipment, give us a call or send us an email.
---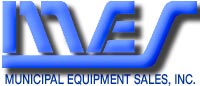 Address: 208 Bell Place
Woodstock, GA 30188

Local: 770-928-0424
Fax: 770-928-7512

Nationwide Toll Free: 1-800-782-2243

Email: sales@municipalequipment.com
MES Home | Product Line | Storm & Disaster Cleanup Trucks
Video Pipeline Inspection | Pipeline Nozzles | Safety Cameras | Knuckleboom Trash Loaders
Sanitation | Recycling | Leaf Collection | Street Cleaning | Street Maintenance
Ice/Snow Material Spreaders | New/Used Equipment | Parts | Complete Financing
Copyright © 2001 – 2013 Municipal Equipment Sales, Inc.