Home

Product Line

Safety Cameras, Monitors & DVR

Sanitation

Video Pipeline Inspection

Jetter Cleaning Nozzles

Ice/Snow
Material Spreaders

Power
Sweeping

Street
Maintenance

Leaf Collection

Recycling

New/Used Equipment
In Stock,
Ready to Deliver

Parts

Complete
Financing

Contact Us



"Quality
Service
Since 1978"

Super Products Camel Jet Features
The Camel Jet has the best features and specifications in the industry!
Scroll down to check out the Camel Jet features. The specifications are located farther down the page.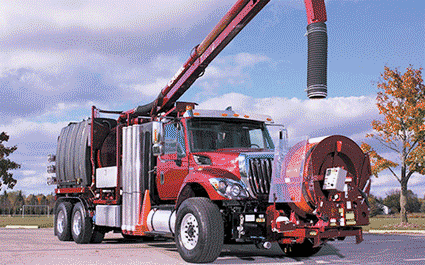 Camel Jet Features
Water tanks are constructed of 3/8" (9.5mm) rotationally molded polyethylene with ultraviolet stabilizer and can hold up to 1500 gallons (5,677L).
Collector bodies are constructed of a full 1/4" (19mm) Exten abrasion resistant steel designed to withstand vacuum levels of 367" (9322mm) of water and offer debris capacities of 6.5 cu. yd. (4.9m3); 10.8 cu. yd. (8.2m3); and 16 cu. yd. (12.2m3)
Hydraulic boom with 210° rotation, vertical lift up to 16' (4.88m) and lifting capacity up to 1000lbs. 8" (203.2mm) I.D. vacuum systems are available with extra long radius heavy duty steel elbow. Hydraulic boom extensions of 8' (2.44m) are available with a true telescopic tube inside tube design.
A front-mounted control console make it easy and safe to operate many functions including the unit's water and vacuum pumps; PTO on/off switches; water flow control; electronic engine throttle; water pressure gauge; reel directional valve; reel speed control; and pendant and handgun connections.
Full diameter ejector unloading system completely and safely removes all debris from collector body with minimal cleanup and the internal body flush-out system makes this cleanup fast and easy at the dumpsite. Automatic stainless steel body level shut-off float ball system prevents overfilling collector body. The ejector unloading system also allows you to dewater excess liquid using the 6" (152.4 mm) drain from the collector body. Removing the liquids creates additional capacity for the waste solids and means fewer trips to dump site which increases your overall productivity. Click here for more information on our patented ejector plate unloading and "Super Pak" dewatering system.
For operators that prefer a dump body unit, the Camel is also available with the standard "tip-to-dump" method that raises the body up to a 50° angle with a telescopic hydraulic cylinder.
All controls for discarding debris can be located behind the driver side or passenger side of the chassis cab.
Single engine drive allows vacuum, water and hydraulic pump to operate while transmission is in NEUTRAL. Water pump is driven by a front crank shaft mounted, closed loop hydrostatic system offering infinite variable control without effecting the vacuum system. Vacuum pump is driven by 10-bolt hot shift PTO. Split shaft transfer case drive is also available.
The single engine design also results in lower sound levels, reduced maintenance requirements and less fuel consumption.
Save time and cost associated with replenishing your water with Camel Waste Water Recycling System. The Camel was the first to offer the industry a waste water recycling system and it's still the best available on the market today. Simply fill the system with fresh water and, true to its name, the Camel will allow you to work all day without the need to replenish your water supply. Learn more about the water recycling system by viewing our Camel Product Demonstration video.
Hydro Excavating Options are available on the Camel that can make the unit the most versatile piece of equipment in your fleet. Water heaters, cartridge filters, dig tubes and specially-designed water lances turn your combination unit into a powerful hydro excavating unit.
Hose Reel (mid-ship) Mid-mounted, self-aligning hydraulically driven, heavy-duty, sewer hose reel with a capacity of up to 600' (182.8m) of 1" (25.4mm) sewer hose with hose reel tensioning and automatic level wind systems make this the easiest reel to operate and most productive unit available.
Hose Reel (front-mounted) 180° manual rotating hose reel, with capacity up to 1000' (304.8m) of 1" (25.4mm).
A positive displacement vacuum pump ensures maximum vacuum and air flow at all engine speeds and allows material to be vacuumed above or below the surface. Click here for more informatin on the Camel's vacuum system.
Utilizes continuous flow and pressure, a positive displacement triplex water pump produces smooth-acting, surge-free flow and pressure for maximum cleaning and reduced fatigue on the water system. Click here for more information on the Camel's water system.
Tailgate is secured by a manual latch system or an optional hydraulic latch system.
Rugged aluminum tubing with storage of up to 48'(14.6m) on rear door with hydraulic fold down tube rack.
Customize your own storage for tools and accessories with a wide selection of different sized storage boxes.
---

To request a demonstration at your location, click on the link to the right. For more info or answers to questions, call 800.782.2243 or send us an email.

---
Camel Specifications
General Specifications Wording
The equipment described herein shall be utilized for the purpose of simultaneous high pressure flushing of sewer pipes and removal of liquids and solids from the manhole. All operations shall be able to be performed by one operator. All material from the manhole shall be deposited within one cylindrical debris tank.
Unloading of debris tank shall be accomplished via an internal ejector plate. The entire unit is to be of a single engine design. The chassis engine is to power all functions of the combination unit.
Units utilizing additional engines are unacceptable due to weight, fuel costs, emissions, and maintenance costs. To avoid untried and untested units, the model bid must have been in production for a minimum of five years. A user list of the exact model bid may be required prior to awarding this bid.
Debris Body
Minimum usable liquid capacity of 9 cubic yards.
Cylindrical shaped body shell with domed tank head on one end and full height and width tailgate on the end toward rear of body.
Designed to withstand a vacuum of not less than 360" of H2O.
Body shell, tank head and tailgate shall be a minimum one quarter inch (0.25)" thick Exten steel plate. If 3/16" steel is supplied for the debris body, it must be internally coated with Normac NR-5S Sprayable Polyurethane or equivalent and carry a 10 year warranty against the coating scuffing or peeling causing accelerated tank deterioration.
Body shell shall be cylindrical and no larger than 72" OD to better distribute load on chassis.
Hydraulic tailgate latches shall be provided to prevent operator from going behind unit.
Minimum of five mechanical tailgate latches which are hydraulically operated shall be supplied for securing rear debris tank door.
Hydraulic latching shall be accomplished by a single hydraulic cylinder with mechanical linkage. Cylinder and linkage must be accessible from outside of body and not require the tailgate to be opened to gain access.
Latch shall be failsafe locking wedge type so that the tailgate will not open if hydraulic power is lost. Systems requiring separate manual latches to secure the door in the event of hydraulic system failure are unacceptable.
Hydraulic controls for tailgate and dump functions shall be located behind the cab on the passenger's side forward of the debris tank.
Tailgate shall have self compensating neoprene seal located on the door.
Tailgate shall be flat in nature with a minimum of 4" x 3" steel channel reinforcements and .25" x 3" H.R. Flat around perimeter to prevent flexing.
A 2.5" x 2.0" x .38" steel angle iron shall be fully welded at rear of body for stiffness.
Due to confined space entry safety concerns, tailgate must be full width and height of the debris tank, no exceptions.
Exterior mechanical liquid level gauge to be located at right front corner of body and include a 5" diameter stainless steel ball connected to a float rod and exterior level indicator.
Body shell height shall not exceed 122" from ground for stability when traveling.
Sewer truck must fit under a twelve (12) foot tall door opening.
Internal tank flushing system with minimum 1" diameter high pressure pipe with minimum of 11 rearward jets working off triplex pump supplied. Flusher capable of 2000PSI.
Debris Body Unloading
Debris body shall not tip to dump. Systems that utilize a dump body shall not be acceptable due to safety issues related to raising the body, potentially causing instability and increased chance of rollover.
Full diameter fabricated steel ejector plate with two-stage hydraulic cylinder shall be installed inside the body. The ejector plate will be a minimum of 1/4" thick steel. The ejector plate shall ride on two fully welded angle irons welded to the inside of the body. Adjustable guides shall be supplied that can be adjusted without removing the ejector plate from the body.
Adjustable high density polyethylene wipers shall be mounted to the perimeter of the ejector plate to clean bottom, sides, and top of tank while unloading debris.
Ejector plate shall be equipped with a hatch to allow access to forward part of body.
Ability to allow liquid to seep past ejector plate into front of body and be drained through a 6" front drain valve maximizing the ability to dewater.
Compaction and dewatering option that allows the operators to physically compact the material and squeeze excess water from the load.
Sensing device to limit travel of ejector plate when compacting.
Sensing device with indictor light advising operator that ejector plate is in full forward position and vacuuming can resume.
Toggle switch on curb side of unit for controlling compaction cycle.
Debris Body Drain
Minimum 6" diameter front mounted body drain, gate valve with locking handle and 25 feet of lay flat drain hose must be included.
Drain hose must be equipped with quick-locking clamp for easy removal.
Body drain capable of pneumatic back flushing in order to easily unclog without opening tailgate.
A 6" inspection/clean out port must be provided opposite the 6" drain.
Water Storage Tanks
1500 gallons minimum usable capacity.
Modular self-baffling water storage tanks.
Rotational molded repairable non-cross linked polyethylene construction with ultraviolet stabilizer or minimum 1/4" thick stainless steel construction.
Bottom of water tank protected by 0.25" steel to eliminate potential puncture from road debris.
Bottom of all water tanks must be above top of truck frame.
Total tank capacity divided among a minimum of 5 separate tanks and interconnected together. Water tanks to be mounted at same level to prevent pressurization and breather problems.
Bottom of water tanks must be above suction port of water pump to avoid cavitation.
Tank suction shut-off valve with 3" cast iron "Y" type strainer with #6 mesh screen to protect water pump.
Easily accessible inspection ports a minimum of 6" diameter provided on top of each modular tank.
Ten (10) year warranty, parts and labor against defects in material and workmanship plus lifetime "no rust-through or corrosion warranty" provided.
Tanks must be equipped with sight tube visible from front of truck.
A minimum 2" diameter dual fill cross over must allow the tanks on both sides of unit to fill simultaneously, with 2 separate 4" air gaps.
Truck must be supplied with a water tank fill strainer with #30 mesh screen to prevent sand or grit from entering the water tanks.
Water tank fill system shall be capable of filling the fresh water tanks in 10 minutes or less.
Vacuum System With Positive Displacement
Vacuum Pump must be rotary lobe positive displacement "Roots Type" bi-lobe pump using two figureeight impellers rotating in opposite directions to move entrapped air around the case to the outlet port.
Vacuum Pump Dresser 824 or equivalent shall be capable of airflows from 0-4600 CFM and vacuums of 0" to 16" Hg. Pump must produce minimum 3600 CFM at 16" Hg at rated RPM.
All vacuum pump drive and driven gears shall be running in oil at all times. Drive/Driven gears relying on splash lubrication are unacceptable.
Vacuum pump must have vertical airflow through it from the bottom to the top to eliminate moisture buildup and potential freezing.
Vacuum pump shall not require daily greasing.
Hardened pump impeller lobes and shaft must be one piece construction. Pressed on shafts are not acceptable.
Pump shall have high tensile alloy steel hardened and ground helical gears to reduce noise (shaved gears not acceptable).
Pump design shall include double row spherical roller bearings used on both drive and gear ends to allow for ease of maintenance.
Vacuum pump shall have sight eyes on both ends easily visible to operator.
Vacuum pump shall be equipped with a high efficiency exhaust silencer mounted directly on top of the pump.
Dropout vacuum chamber with clean-out door shall be mounted on pump inlet to slow air down with sump check valve to automatically drain moisture and condensation.
Two 12" diameter internal stainless steel float balls supplied for automatic vacuum system shut off when unit is full of liquids.
Vacuum pump shall be protected by a cartridge filter capable of containing particles sized 10 micron or larger. Cartridge filter housing shall be constructed of 1/4" steel, and have one single door hinged on the left for easy access. Filter element shall be minimum 22" diameter x 21" long constructed of washable polyester felt, 98% efficient @ 10 microns.
A minimum of two 3" mechanical vacuum relief valves capable of handling the full air flow of the vacuum pump mounted on the inlet vacuum chamber.
Odometer shall not operate when vacuum pump is operating eliminating premature truck warranty expiration.
An air operated vacuum relief vent door shall be installed between the body and the vacuum pump. Vent door opening shall be a minimum of 28 sq. inches. A toggle switch shall be located at the front control panel for operating the 6" vent door. The vent door shall be capable of opening under full vacuum without shutting the vacuum pump off.
An externally mounted tapered cyclone separator with clean out will be incorporated between the positive displacement vacuum pump and the debris tank. The clean out door shall be a minimum of 6" and must include a rectangular storage area at the bottom of the cyclone with a minimum volume of 1.3 cu. ft.
Vacuum Drive System - 10 Bolt
Vacuum pump shall be driven from a Hot Shift 10 bolt PTO directly mounted to transmission.
Minimum 1410 series driveline shall run from PTO to jackshaft.
Minimum of 1.75" diameter jackshaft supported by 2 pillow block bearings with mounting bracket mounted to truck frame.
Cogged Drive belt with a minimum width of 170mm shall run between vacuum pump and jackshaft. V-Belt drives shall not be acceptable.
Belt Guard over that part of belt drive which is above the truck frame.
Vacuum pump PTO on/off controlled by toggle switch at front control panel.
Electronic protection device so operator can not engage vacuum pump unless truck engine speed is below 950 RPM.
For the safety of the operator the unit must operate with the truck transmission in neutral when operating the vacuum pump. Units requiring that the transmission be in a forward or reverse gear to operate the vacuum pump will not be acceptable.
High Pressure Water System
Triplex type positive displacement reciprocating piston plunger pump with built-in gear reduction. Pumps with less than three pistons plungers are not acceptable.
Continuous rating of 80 GPM at 2000 PSI (Intermittent rating not acceptable)
Drain valves mounted on pump
Pump will provide continuous water flow and pressure
Packing(s) must not require daily greasing
Pump mounted forward of debris tank above truck frame to allow easy maintenance and proper weight distribution.
No portion of any water tank shall be mounted below suction port of pump.
Pump shall remain flooded at all times water is in the tank to ensure longevity of the system and eliminate pump cavitation. Use of an additional primer pump is not acceptable due to increased maintenance.
Pressure regulator set at 2100 PSI (145 bar) with water return to water tank. Regulator shall be rebuildable. Internal parts shall be made from non-corrosive materials.
Two 2-way manually operated ball valves or one three way manually operated ball valve for directing water flow to either sewer hose or back to tank shall be located at front operator station.
Odometer will not operate when pump is operating to eliminate premature truck warranty expiration. Hydrostatic pump and motor shall have a minimum of 3 year warranty.
Water Pump Drive System
Powered by a variable speed, closed- loop hydrostatic system. Minimum 30 gallon hydraulic reservoir with sight eye and thermometer. Working hydraulic hoses to be a minimum of 1.25 inches I.D.
Hydrostatic pump to be capable of pressures to 6000 PSI and flows to 89 GPM and mounted to front crankshaft PTO of chassis engine. Integrated to the hydrostatic pump shall be a charge pump. Hydrostatic pump case pressure not to exceed 240 PSI to assure long seal life and not contaminating the environment due to leaking of hydraulic oil.
Filters shall include a 10 micron filter for the charge pump and a 10 micron spin on filter for oil returning to the reservoir. An oil cooler rated at 153,000 BTU per hour, with double 12 volt electric fans shall be included. Fans shall turn on automatically when water pump is engaged. The use of water to oil cooling systems is specifically prohibited due to the potential of freezing and water contamination of the hydraulic system.
The hydrostatic motor shall have a minimum rating of 89 GPM / 6000 PSI, be flange mounted to the water pump, and be controlled by an operator panel mounted variable speed, dial type potentiometer.
Water pump will provide continuous water flow and pressure. Piston and/or packing must not require greasing.
Electrical System - Sewer Cleaner Body
Sewer cleaner body must include a "CAN Bus" style self diagnosing, via built in LED indicators, electrical system.
Electrical system must use no more than a single twisted pair, throttle wire, and power wire between the front control unit and the main sewer cleaning body.
The system shall be sealed to Rugged Condition, ANSI EP455 standards, including epoxy encapsulation to enhance performance in response to vibration, moisture, temperature, and chemicals.
Model and References
Sewer cleaning model being bid has been in production for a minimum of 5 years, with at least 10 different municipal/city references (must be listed on last page of specification, form provided).
Due to concern of fuel cost, air pollution, and maintenance, the unit bid shall be of single engine design.
Ground clearance of body equipment (water tanks, hydraulic tanks, water pumps…) to be 14" minimum.
Front-Mount Sewer Cleaning Jetter Hose Reel
Hose reel assembly shall be front mounted at the center of the unit with 180° manual rotation to facilitate manhole entry and reduce traffic flow interruption. Hose reel rotation shall occur between the headlights of the truck chassis keeping the reel at a centered position at all times. Manual rotation of the reel shall be a minimum of 180°. Rotational systems requiring hydraulics or cylinders for extension or rotation shall not be acceptable.
Hose reel does not rotate beyond either side of the chassis during 180° rotation or arc, potentially placing city workers outside the safety zone directly in front of the vehicle. Systems that rotate beyond this safety region, potentially into the roadway are not acceptable.
CAD type drawing showing rotation of front hose reel.
Minimum hose reel capacity of 1000' of 1" I.D. sewer hose. Drum and flanges constructed of 1/4" (6mm) steel, designed to withstand maximum working pressure without distortion. The drum shall have a minimum diameter of 30" to prevent hose damage. The reel shall be supported by two (2) heavy duty self aligning pillow block bearings, bolted to a 1/4" (6mm) thick support frame.
600 feet of 1" diameter thermo plastic sewer cleaner hose supplied, with 2500 PSI working, 6250 PSI burst pressure ratings minimum. Hose must be constructed per standards established by NSWMA. Rubber type sewer hoses are not acceptable.
Reel driven by a dual chain, hydraulic drive producing a minimum. 14,600 lbs. in torque and a variable speed from 0 to 50 RPM utilizing an open center directional control valve with adjustable priority flow divider and adjustable relief.
An electric motor driven hydraulic system to lower and raise or extend and retract the hose reel frame away from the chassis for ease of maintenance shall be provided that does not require the truck engine to be running.
Manually controlled level wind provided utilizing minimum four rollers. The top roller must be designed to pivot out of the way to allow for sewer hose removal without having to completely rewind hose back onto the reel.
A worker safety containment system enclosing the area between the operator and the hose reel provided, consisting of a guard constructed entirely of extruded transparent UV stabilized Lexan plastic with a minimum impact strength of 60ft./lbs per inch per ASTMD256A. The transparent containment system permits viewing of hose reel and sewer hose, while allowing protection to the operator against hose burst or coupling failure.
The ability of the containment guard to pivot up out of the way to gain access to the hose when it is not pressurized.
An interlock system which does not allow the water system to be turned on unless the containment guard is in the fully lowered position.
Power Boom System
The power boom shall have a minimum of 210 degree hydraulic rotation and be lockable in any position. State Boom Rotation and provide drawing with bid: ________ Degrees.
Boom to be supported on 14" turntable bearing.
Boom elbow to be bolted to end of boom arm.
Boom elbow to be made from 8" steel tube with a minimum inside bend radius of 28".
The boom shall not rise with debris body.
Boom vertical lift shall be a minimum of 16'0"
Lift capacity at the boom end with boom fully extended shall be 1,000 pounds minimum. State Boom Lift Capacity with Boom Fully Extended: _______ Lbs.
A joystick shall be permanently mounted to the operator control station for boom functions: up, down, left and right.
Boom system shall be remote controlled from a removable wired pendant controller. Boom pendent shall control all boom functions: up, down, in, out, right, left; throttle control; and vac vent door relief.
In addition to wired pendant, a wireless remote control shall be supplied to operate all boom functions: throttle control and vacuum vent door relief.
Boom shall reach a minimum of 255" from centerline of unit with a 8' hydraulic telescoping boom extension. The boom must be true telescoping with a tube sliding within a tube.
Travel storage position shall be at front right corner of truck bumper for driver visibility.
Boom rotation shall be accomplished with a worm gear that automatically locks in any position.
A boom rest for transport shall be directly mounted to sub frame.
Boom elbow to be reinforced with a gusseted channel that provides double walled steel on the outside sweep. Boom elbow shall have a 3 year replacement warranty.
All boom grease fittings shall be located at ground level on grease manifold for ease of maintenance.
Operator Control Center
Operator control panel located in front of vehicle.
Vacuum pump "Hot Shift" PTO engagement control located on the control panel.
Hose reel direction and speed control located at operator's station.
Water pressure gauge.
Water pump hour meter.
Vacuum pump hour meter.
Electric throttle control for truck chassis engine.
Receptacle for boom control pendant.
Engine fuel consumption.
Engine oil pressure.
Engine water temperature.
Engine tachometer.
Emergency engine kill switch at the operator's panel that disengages water and vacuum pump before shutting down the engine.
Sewer hose footage counter shall be electronic with digital readout.
Vacuum Tubes and Storage
8" diameter aluminum tubes with male/female fittings.
One (1) 7', two (2) 5', three (3) 8' and one (1) 3' aluminum vacuum tubes with clamps and gaskets. Not tools required with clamps.
One (1) three-tube storage rack mounted on tailgate supplied.
One (1) three-tube vertical storage rack mounted passenger side.
Tube racks must be supplied on the passenger side or rear only. Racks mounted on the driver side potentially placing workers in the roadway are unacceptable.
One 8" x 2' fluidizer tube. Capable of removing material below water at depths of up to 75' supplied.
Nozzles
One (1) 1' diameter hardened stainless steel, with replaceable inserts, general cleaning nozzle.
One (1) 1" diameter hardened stainless steel, with replaceable inserts, chisel type penetrating nozzle.
One (1) 1" diameter nozzle extension.
Washdown System
Triplex sewer cleaning pump will supply water with means of regulating pressure from 0 to 2000 PSI available at handgun.
Quick disconnects located at front operator station and driver's side mid-ship of unit for handgun.
One (1) handgun rated at 2500 PSI with minimum of 35' of 1/2" hose.
Retractable hose reel with live center complete with 50' x 1/2" hose provided with quick disconnect.
Air Purge System
Self-contained system for purging water from jetting hose, handgun lines and pump to prevent freeze-up supplied. Air supplied by truck air compressor with appropriate safety check valves for brakes.
Winter Recirculation System
A system will be supplied to prevent freeze-up by pumping water through system, including hose reel while driving to job site.
Winter recirculation system will enable travel over the road without damaging pump, drive systems or truck transmission.
Accessories
One (1) 2-1/2" x 25' fill hose with fittings for filling water tanks.
One "tiger tail" hose guide with rope.
One leader hose, 1" x 10'.
One hydrant wrench.
One manhole puller hook.
One (1) front mounted warning LED Strobe light.
One (1) rear mounted warning LED Strobe light.
One CD-ROM based operation, maintenance, repair and parts manual.
Stainless steel fenders over rear wheels.
Mud flaps behind rear tires.
Rear mounted LED arrow board supplied with controls in cab.
LED stop, turn and running lights, including three light bar
Miscellaneous
One lockable steel/aluminum diamond plate toolbox, 18" x 18" x 60".
2 ½ lb dry chemical fire extinguisher with mounting bracket.
Highway warning triangles (3) with plastic storage box mounted in cab.
Safety cone rack with 6 – 28" orange cones mounted on front bumper.
Hydro-excavation accessory kit. Kit to include 8" x 6" reducer, 6" x 6' dig tube with non-conducting cuff. Handgun with on/off trigger, two (2) 1/2" x 6' pipe extensions with uick disconnects, one urethane coated nozzle with three replaceable jets and one spring return hose reel with 50' of 1/2" hose.
Unit shall have a heavy duty backup alarm rated at 97dba.
Rear DOT bumper supplied.
Rear mounted tow hooks.
Paint
Unit shall be sand blasted for pretreatment prior to priming. After blasting the use of a specially formulated high solids industrial epoxy primer that has superior adhesion, great build to achieve the recommended thickness for sand ability and protection. After priming the unit is completely sanded to remove any imperfections in the metal and provide use with a smooth surface to topcoat. Final coat to be a high solids industrial urethane topcoat to provide the unit with superior glossy finish and protection from the elements the commerical trucks come in contact with. Total thickness to be an average of 6-8 mil, minimum. Unit only, white color.
Warranty
Minimum one year parts warranty on sewer/catch basin cleaner against defects in material and workmanship.
Minimum ten (10) year parts and labor warranty on water tanks and debris body against defects in material workmanship.
---

To request a demonstration at your location, click on the link to the right. For more info or answers to questions, call 800.782.2243 or send us an email.

---
After the Sale: You can always count on our experienced support personnel to provide you with follow-up services, including replacement parts and product information.
How can we serve your needs?
For more information about any of our municipal equipment products, give us a call or send us an email.
---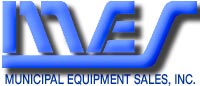 Address: PO 1233
Woodstock, GA 30188

Local: 770-928-0424
Fax: 770-200-1690

Nationwide Toll Free: 1-800-782-2243

Email: sales@municipalequipment.com
MES Home | Product Line | Storm & Disaster Cleanup Trucks
Video Pipeline Inspection | Pipeline Nozzles | Safety Cameras | Knuckleboom Trash Loaders
Sanitation | Recycling | Leaf Collection | Street Cleaning | Street Maintenance
Ice/Snow Material Spreaders | New/Used Equipment | Parts | Complete Financing