Home

Product Line

Knuckleboom Trash Loaders

Safety Cameras, Monitors & DVR

Sanitation

Video Pipeline Inspection

Jetter Cleaning Nozzles

Ice/Snow
Material Spreaders

Street
Sweeping

Street
Maintenance

Leaf Collection

Recycling

Technical Rescue Trucks

New/Used Equipment
In Stock,
Ready to Deliver

Parts

Complete
Financing

Contact Us


---
Public Works Consulting
---

"Quality
Service
Since 1978"
We are pleased to offer some of the top sweeper lines available in America.
We look forward to earning YOUR business.
---
We Proudly Offer
Pavement Cleaner Choices From:
Victory Sweepers, Tennant and Johnston North America
---
The Remarkably Versatile T-600 Tow-Behind Sweeper From Victory Sweepers, Inc.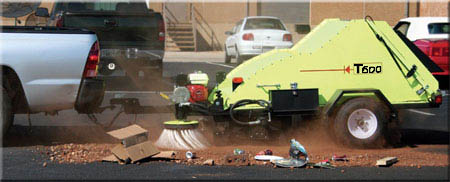 We currently give top-of-the-page billing to Victory Sweepers, which has 'hit a home run' with this low-cost, very versatile sweeper. Although it is a mechanical machine, it picks up with the alacrity of a much bigger air sweeper. And talk about versatile; you can tow it behind a golf cart or gator! Plus, you can sweep a wide array of surfaces, from streets to bike paths to parking lots to grassy areas.
Take a look at the detailed online information we have available on this workhorse sweeper, which retails for under $15,000 and features a 5.5 hp Honda engine that only uses about 1.5 gallons of gasoline per shift. Many have found this sweeper to be a great addition; when you see our online video on the machine's feature page you'll see why!
---
Indoor Sweepers and Scrubbers by Tennant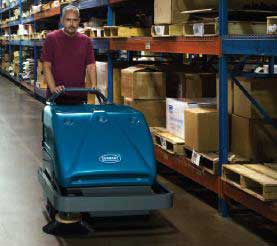 Tennant is the leading manufacturer of indoor/outdoor sweepers and scrubbers. We have an information page on our website that provides brochures and information on Tennant's sweeper and scrubber line.
Take a look at Tennant's sweeper and scrubber line. If you're in the market for this type of machine, there is no question you'll find just the machine you'll want to specify for your next purchase.
After the Sale: You can always count on our experienced support personnel to provide you with follow-up services, including replacement parts and product information.
How can we serve your needs?
For more information about any of our lines of street sweeping equipment, give us a call or send us an email.
---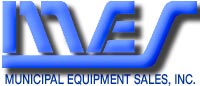 Address: 208 Bell Place
Woodstock, GA 30188

Local: 770-928-0424
Fax: 770-928-7512

Nationwide Toll Free: 1-800-782-2243

Email: sales@municipalequipment.com
MES Home | Product Line | Storm & Disaster Cleanup Trucks
Video Pipeline Inspection | Pipeline Nozzles | Safety Cameras | Knuckleboom Trash Loaders
Sanitation | Recycling | Leaf Collection | Street Cleaning | Street Maintenance
Ice/Snow Material Spreaders | New/Used Equipment | Parts | Complete Financing
Copyright © 2001 – 2013 Municipal Equipment Sales, Inc.