Home

Product Line

Safety Cameras, Monitors & DVR

Sanitation

Video Pipeline Inspection

Video Manhole Inspection

Jetter Cleaning Nozzles

Ice/Snow
Material Spreaders

Power
Sweeping

Street
Maintenance

Leaf Collection

Recycling

New/Used Equipment
In Stock,
Ready to Deliver

Parts

Complete
Financing

Contact Us



"Quality
Service
Since 1978"
Compact Sweepers for parking areas, sidewalks, street curbs are offered by Municipal Equipment Sales, Inc.
We look forward to earning YOUR business.
---
Our Tennant Green Machine line is available with special GSA government pricing.

Contact us for details.
Tennant's Green Machine is a compact suction sweeper used throughout the world for cleaning outdoor shopping malls, pedestrian streets, sidewalks, roads and other high litter pedestrian areas where larger more traditional street sweepers can't reach. Visit their website (by clicking on their logo) for more information about how the Green Machine range of sweeper machines can clean any sidewalk, parking lot, road, downtown areas and any other congested outdoor areas that you may have to clean.

The Green Machine

Originally a walk-behind machine, newer versions of the Green Machine now allow the operator to ride, but all versions are compact and quiet enough to operate more safely and efficiently in areas of high pedestrian traffic than traditional street sweepers.
Model 400 Series Green Machines

What makes the Green Machine the best-selling outdoor sweeper in its class, worldwide? After 40 years of relentless product improvement, we are proud to present the latest versions of the 400 Series Green Machine — engineered to be the most reliable and versatile sweepers in the world.

Quiet and Clean — Extremely quiet and virtually dust-free, the Green Machine is safe, maneuverable and people friendly.
Powerful and Economical — The 14-horsepower water-cooled diesel engine produces unequalled vacuum power, yet sips just 2 gallons of fuel per day.
Operator Friendly — Using standard plastic trash bags for convenient and hygienic disposal, and with easy to use controls and effortless maneuverability, the Green Machine guarantees operator comfort and efficiency.
Eats Almost Everything — The Green Machines' unique compacting impeller devours almost anything, mulching debris down to one-third its original size. It easily picks up cans, cigarette butts, leaves, dirt and even glass bottles.
All Season Versatility — In fall, the Green Machine mulches over 200 gallons of leaves before emptying. In winter, just clip on the optional snowplow and de-icer sprayer for efficient snow clearing.
High Profile — Choose custom body colors, graphics and audio messages — the sleek styling of the Green Machine gets your efforts noticed.






Information Downloads in pdf file format are available wherever you see the logo to the right:

We offer the a pdf brochure of Tennant's Green Machine Model 400 here on our website: Model 400 PDF


Adobe Acrobat Reader is a free download from Adobe.com and most computers now have it installed. Adobe.com will open in a new window.
Depending on your settings, it will either download to your desktop and open in a new window, or download to a designated download spot on your computer.
---



Model 626 Green Machine

Let your public spaces speak for themselves. The 636, compact rider air sweeper, makes a positive impression in congestted downtown spaces, parking decks and any other outdoor areas where a professional sweeping job is required.

Outsmart dust and debris with the versatile 636HS air sweeper.

Set operators at ease with all-around visibility and ergonomic controls.
Sweep with exceptional dust control, while using 70% less water than traditional street sweepers with CloudMakerŠ dust control technology.
Stand up to the elements with stainless steel, non-corroding materials, and other high quality components.

With the 636, you can arrive at the job quickly and safely:

Speedy 20 mph (32 km/h) transport capabilities
Stabilizing Vari-trackTM extendable front track
Smart transmission with 4-wheel drive for 4-wheel braking

Plus, you can avoid disrupting nearby residents, shoppers, visitors, or students while sweeping with the compact, people-friendly 636.

Key reliability and performance features:

Maintain a healthy environment with CloudMaker technology and 3-stage dust filtration.
Make routine maintenance and service quick and easy with complete access to all major systems.
Experience a car-quality ride with 4-wheel drive and fully-independent suspension.
Simplify operation and troubleshooting with built-in systems monitoring, featuring an LCD screen that provides real-time information to operator and mechanic.

Optional 636 sweeper equipment

Air conditioning
Color TV reverse camera
Pressure washer
Central greasing—quickly.

Sidewalks, plazas, curblines, alleys, airport concourses, parking lots, residential neighborhoods, trails, parking garages, downtown districts, children's play areas ... it is hard to think of an outdoor sweeping problem that the 525HS can't handle ... quickly, quietly and efficiently.

We offer the a pdf brochure of Tennant's Green Machine Model 636 here on our website: Model 636 Brochure

After the Sale: You can always count on our experienced support personnel to provide you with follow-up services, including replacement parts and product information.
How can we serve your needs?
For more information about any of our lines of street sweeping equipment, give us a call or send us an email.
---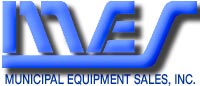 Address: PO 1233
Woodstock, GA 30188

Local: 770-928-0424
Fax: 770-200-1690

Nationwide Toll Free: 1-800-782-2243

Email: sales@municipalequipment.com
MES Home | Product Line | Storm & Disaster Cleanup Trucks
Video Pipeline Inspection | Pipeline Nozzles | Safety Cameras | Knuckleboom Trash Loaders
Sanitation | Recycling | Leaf Collection | Street Cleaning | Street Maintenance
Ice/Snow Material Spreaders | New/Used Equipment | Parts | Complete Financing